Cheryl Bauer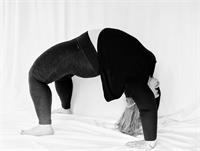 FAVORITE QUOTE:
"Thousands of candles can be lit from a single candle, and the life of the candle will not be shortened. Happiness never decreases by being shared." - Buddha
FUN FACT:
"I'm a craft beer affectionado. My husband and I have brewed 3 of our own batches of beer. The first one was horrible, the second was great, and the third was over fermented and extremely strong. I want to brew a saison next. I've also easily seen over 100 live concerts, my top 3 being 'Of Montreal' at the Roseland Ballroom (2008), 'Flaming Lips' at the House of Blues (2010), and Grizzly Bear/Santigold/the Flaming Lips at Colbchella on the Intrepid (2012)."
WHAT IS YOUR DEEPEST GOAL IN LIFE:
"Being a good mother, wife,
friend, and person in general."
WHAT IS YOUR TEACHING STYLE AND BACKGROUND:
"Certified at the premier league of badassery...HYRTT 2014. I like to keep a light hearted approach to a power style flow. I want us all to work hard and get an amazing workout but I want us all to be smiling and having fun. I want to have a practice that has you leaving the studio feeling you accomplished something that wasn't available yesterday. I want to help you nail that pose to give you a win for today, this week, this month, forever...! They say that yoga starts from within, so let's start by being happy! If you skip out of my class with a huge smile on your face, I will feel I have done my job well."
Cheryl Bauer instructs the following:
A good House Flow needs a good foundation. Get down with proper alignment, rotations, posture, and some good ole interesting and useful information about each pose. At a tad slower pace, House Flow Basic will cover the nitty gritty details.




Get your power-vinyasa-flow on for the weekend and take a few minutes after class to relax from your work week, unwind, and mingle with your instructor and fellow yoganites with a taste of our wine or craft beer choice of the week.

Cheers!